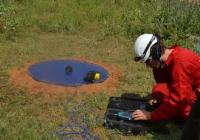 ABS Consulting recently completed design review services for an approval in principle of the design of Hyundai Heavy Industries' (HHI) Modular Liquid Natural Gas (LNG) Storage Tanks.
ABS Consulting reviewed the system design for HHI's Modular LNG Storage Tank and its construction with onsite assembly. During the design review process, ABS Consulting reviewed the design against applicable rules and standards. HHI's design methodology has been confirmed to be technically equivalent to standard onshore LNG storage tanks.
HHI is applying spin-off technology and concepts from LNG shipping to onshore storage for the construction and assembly of the Modular LNG Storage Tanks. With the demand for energy storage increasing, especially in remote and harsh environment areas, innovative approaches such as those of HHI create new possibilities for various industries.
These tanks will have most of their construction completed in the controlled environment of a shipyard with those sections then shipped to where they may be needed around the world. This approach allows for a minimal amount of construction effort and time at the final installation site.