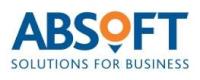 Improving financial reporting for oil and gas will be the focus of a special interest group forum aimed at operators and oilfield service companies in Aberdeen. Hosted by leading independent SAP consultancy and software firm Absoft, the forum, which will be held on Wednesday 12 February, is aimed at key decision makers and users of SAP finance software in upstream oil and gas.
Attendees will hear from Iain Jenkins, SAP finance consultant at Absoft who will demonstrate how the SAP NetWeaver Business Client (NWBC) makes reporting easier and more effective with user-friendly, web based screens that can be accessed on desktops and with mobile devices on the move.
Tim Hatcher, SAP finance consultant at Absoft will then discuss how to improve the timeliness and accuracy of Income Statement preparation by using the tools and functions available in SAP whilst reducing over reliance on Excel.