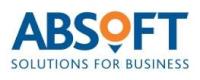 Absoft is expanding the reach of its SAP Integrated Support Services division, building on its strengths in the energy, public and private sectors to offer lifeline SAP expertise to companies facing cost challenges and skills shortages.
Keith Davidson has been appointed Integrated Support Services Director and leads the further development of Absoft's range of products and support packages for businesses from local and national government organisations to SMEs and major multinationals.
And Abdullah Malik has been appointed Service Delivery Manager, taking ownership of the division's provision of services to clients, and managing Absoft's Partner Centre of Excellence and ISO accreditations.
Absoft has already created a new Upstream SAP Service Centre to service the needs of operators and supply chain companies looking to address a growing skills gap and achieve increases in operational efficiency, while seeking significant savings.
And the company made the move to deliver the ad-hoc support and optimisation initiatives needed by those companies experiencing a squeeze on internal resources.