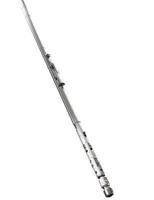 AccessESP has unveiled its next generation, rigless ESP conveyance system, Access375. This represents a paradigm shift in rigless ESP conveyance with many unique features:
Access375 is the fourth generation, state of the art, single section, permanent magnet motor and is one fifth the length and weight of a conventional induction motor. This one-piece design eliminates the need for tandem and triple motors, significantly reducing system complexity, leading to higher reliability simpler installation.

The technology is comprised of a robust and rugged mechanical design based on the adoption of components and techniques proven throughout the last twenty years in the MWD/LWD and the completions industries.

It encompasses a 'no-compromise' product design and qualification philosophy. Access375 is built and qualified for challenging, offshore and remote location applications, utilizing technologies and components not practical in most operating environments.