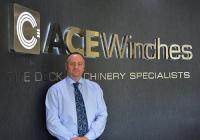 Global deck machinery specialist, ACE Winches, has strengthened its senior management team with the appointment of Chris Dixon as Hire and Services Director.
Dixon brings more than 27 years engineering and management experience in the oil and gas industry and holds a BSc Honours degree in Engineering Technology. He joins ACE Winches from Stork where he worked in various management roles, with the most recent being Delivery Director.
Dixon has held a number of senior positions in the oil and gas industry including Product Line Director at Stork and Executive Director at Sparrows Offshore Services. His career has seen him work all over the world including the US, Africa, Brazil, Alaska and Trinidad.
In his role, based at the company's headquarters in Aberdeenshire, Chris will oversee the hire and services divisions responsible for the operational consistency of ACE Winches products and services. He will also continue to develop the company's product lines including; reel drive systems and linear winches. The Hire and Service team includes both onshore and offshore staff.
Dixon comments, "I'm thrilled to be joining ACE Winches at such an exciting time. I have always been attracted to companies who are market leaders and ACE Winches is definitely leading the way in deck machinery solutions. I've worked in hoisting, lifting and mechanical handling for most of my career so it's a great fit for me."
"I was aware of ACE Winches for some time and having met some of the senior management team, I understood their vision so I was eager to work with such passionate individuals. I thrive on working with colleagues and clients in helping to identify solutions, so it was a fantastic opportunity to join such a dynamic team."
Richard Wilson, chief operating officer, ACE Winches says, "We are excited to be welcoming Chris to our team at ACE Winches where his experience will prove invaluable to us. He has a real passion for our business and we look forward to seeing this enthusiasm produce tangible results in the coming months."
"Our focus at ACE Winches is always to continue improving our product and service lines and Chris's extensive knowledge and experience will be a real asset to us. Chris will play a huge role in maintaining operational consistency for our customers to ensure the high quality of our products is continually met," add Wilson.