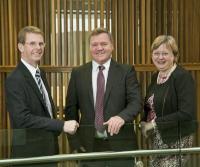 ACE Winches appoints new directors to strengthen its senior management team, Richard Wilson, who recently joined ACE Winches to head up the Engineering Division, joins the Board of Management from 30th November 2015 as Chief Operating Officer.
Richard will be replacing current Chief Operating Officer Graham Thomson, who after 27 years in the industry has decided to step down to spend more quality time with his family and on his private personal business initiatives.
Mr Wilson has more than 27 years' global experience in senior positions in oil and gas, bringing to the organisation an enviable track record in change management within international and UK businesses to improve performance, along with the establishment of new operations in global locations.