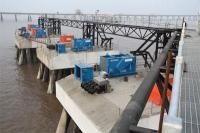 When Statoil required a complete rental Pull in Winch System including Wire Rope and HPU for their Subsea Line Modification Project, ACE Winches was able to supply the total package. The deck machinery specialist designed and engineered a Linear Winch System required for operation on the Troll B Platform, offshore Norway.
ACE Winches had the in-house capability and skills required to take on the project and provide a solution based on Statoil's specific requirements. The rental package supplied incorporated a compact design and weight optimized linear winch, designed for use in land based shore pulls and offshore wire rope deployment and recovery operations.
The model consists of a rigid outer framework housing grippers fitted to a travelling carriage arrangement. The grippers are designed to accommodate multiple wire rope diameters. Each carriage is actuated by two hydraulic cylinders mounted within an outer framework.