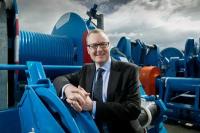 ACE Winches has announced a series of strategic investments increasing the company's reach and operating capacity worldwide as they exhibit at OTC Houston this week.
Following the launch of ACE Winches Norge AS in 2010, a subsidiary company offering all ACE products and services across the Scandinavian market, the company has secured quayside premises at Karmsund Service Base in addition to their current base in Dusavik, Stavanger. The Karmsund base is due to be operational by June 2014 and will double the current workforce over a six-month period.
The Karmsund facilities include workshop, storage and office space as well as 750m of deep water quayside vessel berthing allowing ACE Norge to service their existing and expanding customer base of marine contractors. The quayside facilities will enable ACE Norge to mobilise, de-mobilise and conduct spooling operations directly to clients and sits centrally in the sheltered straits of Karmsundet located conveniently for vessel pass by between Bergen and Stavanger.