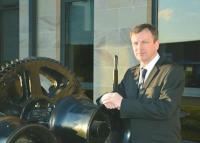 ACE Winches has appointed Colin Black as chief commercial officer, a new role introduced to strengthen the company's board of management.
Mr Black joins as the firm sets its sights on further international growth supported by the introduction of new technology. He is responsible for leading and managing its overall commercial strategy and the management of the ACE Winch Academy.
Colin Black stated: "ACE Winches has an enviable reputation as the original equipment manufacturer (OEM) and market leader in deck machinery solutions, and with my operational background I fully understand the demands of an industry facing the challenges of low oil price. As a co-inventor of several patents I am really enjoying the creative environment within ACE Winches and the solutions we provide. We have already introduced a number of new patented technologies and innovations to the market to address these challenges."
"My first day in the job was witnessing factory acceptance testing of our new ACE Reel Drive System (RDS), the second day was in Rotterdam, aboard the largest crane vessel in the world, Heerema's Thialf, gaining an overview of our forthcoming RDS operation in West Africa.