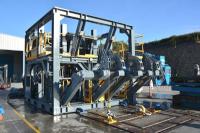 Global deck machinery specialist, ACE Winches will be showcasing how it is addressing clients' needs to deliver cost effective solutions at Subsea Expo next month.
The company recently won a contract as a result of providing a cost-effective solution to engineer, manufacture and build a Diver Service Module package for Subsea 7's new dive support vessel, Seven Kestrel.
ACE Winches supplied Subsea 7, a global leader in seabed-to-surface engineering, construction and services, with the complete solution: a standalone package that provides easy but safe operations, enables minimal downtime and simplified problem solving if an equipment fault was to occur.