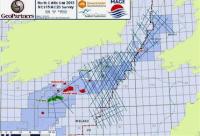 GeoPartners, in partnership with MAGE, Seabird Exploration and DownUnder GeoSolutions (DUG), is pleased to announce completion of the acquisition of a new Ireland/UK multi-­client 2D seismic survey.
This is the first broadband long offset cross border survey, comprising a total of 5,124 line km and is located mostly in the Irish North Celtic Sea and St Georges Channel. Acquisition was completed in September 2015 using the MAGE vessel Nikolay Trubyatchinsky (formerly Polar Explorer).
This project will provide high quality regional data in an area of increasing industry interest following the 28th licensing round awards on the UK side of the median line andseveral new licence options on the Irish side. However, a considerable portion of this area currently remains unlicensed.