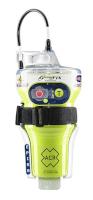 ACR Electronics, Inc., global provider of safety and survival technologies, has confirmed it has acquired United Moulders Ltd. (UML), a United Kingdom-based designer and manufacturer of state-of-the-art lifejacket inflating devices. The business will report into communication and safety at sea specialist Ocean Signal, a brand of ACR Electronics.
UML designs a range of automatic and manual lifejacket inflation systems that are approved for integration into lifejackets manufactured around the world for the commercial, leisure and military maritime markets.
"At ACR we have one mission – to design and build quality products knowing they are used to save lives," says Gerry Angeli, President of ACR Electronics. "UML is established as the preferred choice for lifejacket manufacturers around the world because of the reliability of its products and attention to detail. We are excited to add another brand with the same passion for saving lives to our portfolio."
ACR Electronics, along with Ocean Signal and ARTEX, provide safety and survival equipment to the maritime and aviation markets including Emergency Position-Indicating Radio Beacons (EPIRB), Personal Locator Beacons (PLB), Search and Rescue Transponders (SART), AIS Man Overboard Beacons, Lifejacket Strobe Lights, Searchlights and VHF radios.
UML Managing Director John Perrins says, "Our products are integrated onto lifejackets designed to save lives. It is exciting to now be a part of one company that has the technology to automatically inflate a lifejacket, alert Search and Rescue, and also enable visual location from a strobe light or E-Flare to complete the rescue."