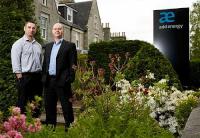 Add Energy, the international energy consultancy provider, has been awarded a maintenance build contract worth more than GBP 1 million with BP for work on West Nile Delta (WND), a development located just off the north coast of Egypt.
The contract, worth almost GBP 1.4 million, will see Add Energy carry out the development of a full asset maintenance build and will include the delivery of an asset register and functional hierarchy build, equipment criticality assignment, development of maintenance strategies for critical and non-critical equipment, job plans and procedures, critical sparing and BoMs development.
The Add Energy project team will be operating from Aberdeen, and will require the project manager and principal consultant to travel to the BP WND project offices in London over the course of the 18-month project.
As part of Add Energy's commitment to the project, the energy consultancy has appointed Dr Damon Bowler to oversee the project.
With over 25 years of asset management experience, Dr Bowler has worked in the oil and gas industry in various roles, and has a diverse range of technical, business and management skills.
This includes over 15 years working for Shell in process safety, operational excellence, reliability, maintenance, operations and projects, within onshore and offshore production assets, gas plants and LNG. He also has10 years of maintenance, reliability and technical / management consultancy experience within numerous industries including electricity and power, oil and gas, refining and petrochemicals.
Dr Bowler is also a committed safety leader with a demonstrable passion for process safety. He is the chair of Step Change in Safety's hydrocarbon release prevention workgroup and is currently leading the development and roll-out of new best practise guidelines for the offshore industry.
Peter Adam, Executive Vice President, Add Energy, comments, "As we continue to work closely with BP, we are delighted to have been selected for this project in Egypt. We believe that Add Energy's wealth of experience in delivering this type of work in amalgamation with our ability to deliver cost effective solutions within our current Global Maintenance Centralization project, has positioned Add Energy as the most suitable contractor for this job. We have built a global library of maintenance strategies and procedures based on best practice and reliability data, which, combined with lessons learnt from previous maintenance build contracts, will enhance this project and support the operator in getting best value for money."
Work is now under way at the site with the development due for completion in March 2018.