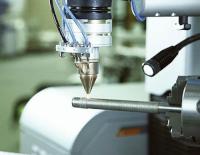 An additive manufacturing technique called DMD (Direct Metal Deposition) developed by O.R. Lasertechnologie in Dieburg, Germany enables reliable protection of sensor elements by means of a hard alloy. It makes it possible to significantly extend their lifetimes, for example in pipelines of the oil and gas industry.
Industrial sensors are very sensitive components. They are deployed to precisely and reliably monitor temperatures, flow rates, and pressure over long periods of time, for example in oil and gas pipelines. They are subjected to extreme stresses while doing so. Each day, about a million barrels of crude oil, or 160,000 cubic meters, pass through a pipeline with a diameter of one meter. That is equivalent to 1,850 litres per second. Onshore gas pipelines have an extremely high internal pressure of 100 bars, which can even reach 200 bars or more in offshore pipelines. Sensor elements used to monitor the flow suffer considerable wear as a result of corrosion and abrasion. This shortens their lifetimes and necessitates costly repairs.
Thanks to an innovative powder nozzle developed by the company of O.R. Lasertechnologie GmbH OR LASER, the technology of powder-based laser cladding also known as DMD can be used to greatly prolong the life expectancy of these sensors. The compact EVO Mobile laser welding system is excellently suited for applying wear-resistant coatings and carrying out repairs or modifications. The system uses relatively low laser output levels starting at 200 watts, but its high deposition rate of up to 5,000 mm3/h makes it ideal for a vast range of applications. It boasts both high efficiency and great value for money due to its low price.
The team of the R&D department of OR LASER spent a year collaborating with the Fraunhofer Institute to develop a highly efficient, easy-to-install powder nozzle that works with high repeatability and is suitable for automated processes.
"We're proud of having found a way to increase the durability of these sensors with our additive laser technique and thus improve the reliability of gas and oil pipelines," says Markus Wolf, head of the R&D department at OR LASER.
The system is completely manufactured in Germany, and the nozzle is the first of its kind to enable a combination of wire- and powder-based laser cladding.
OR LASER not only develops laser welding and cladding systems, but also appropriate means of controlling them. For example, the CAD/CAM software solution called the ORLAS SUITE is even able to program the cladding strategy for complex geometries and align the required laser tracks with micron accuracy. For clamping the workpiece, there is a rotary shaft that allows full five-axis CNC work to tap the full potential of this innovative additive manufacturing technique.