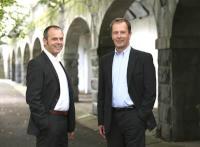 Aberdeen-based IT software and services company, Adept Solutions, has appointed a Client Director to drive its ambitious global growth strategy.
Steve Penman has been installed in the position as Adept looks to capitalise on major opportunities it has identified for its range of production data products and services within the oil and gas sector.
Steve is now responsible for driving Adept's expansion plans with a particular focus on the company's Axis product – an agile, configurable hydrocarbon accounting system that provides the energy industry with improved data integrity and operational insight.
Steve brings with him impressive experience, having held a number of senior management roles within the IT business sector for more than 20 years.
During that time, he specialised in business development and managing large scale projects; at times overseeing teams of up to 200 personnel, who could be based across borders in multiple international locations.