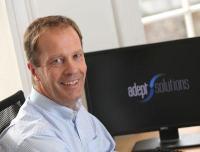 An Aberdeen-based IT software and services specialist has positioned itself for a period of strategic growth after securing two new contracts worth a total of £600,000.
The recently acquired work will see Adept Solutions implement tailored hydrocarbon accounting software to two new projects on behalf of EOG Resources and DONG Oil Pipe A/S, a division of DONG Energy.
The company will support EOG in its new Conwy development, which will see oil from the field in the Irish Sea transferred to the ENI UK-operated Douglas platform in Liverpool bay.
Adept's role will involve the implementation of software that will be able to both read the platform's metering and allocate hydrocarbon output between ENI and EOG in accordance with pre-agreed arrangements.
Adept's project with DONG Oil Pipe A/S, which is set to be delivered in partnership with Accord Energy Solutions, is the company's first foray into the Danish market.