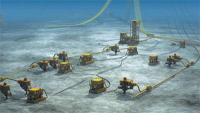 All-electric tube bending machines from Unison are helping FMC Technologies - the leading supplier of subsea tree hydraulic control systems for wellheads - to substantially reduce build times and multiply its manufacturing capacity.
Six sites worldwide now use Unison tube bending machines in a new production method pioneered by FMC Technologies employees in Norway and Scotland.
The subsea systems supplier used to plan the routes for the hydraulic tubing runs that interconnect the valves and other component parts of the subsea trees, and then fabricate the custom tubular part shapes, as the trees were being built. This process slowed down the build cycle, and limited the total number of trees that could be assembled in the company's sophisticated system building cells.
FMC Technologies decided to investigate the use of 3D modelling of tubing, which would allow the tubing system required for subsea tree orders to be designed and bent in advance of system building and then delivered to the manufacturing cells ready for immediate assembly. As part of this process re-engineering initiative, FMC Technologies also purchased a Unison tube bending machine with servomotor-based actuation, to provide a complete CADCAM solution.