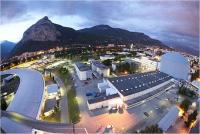 AEG Power Solutions, a provider of power electronic systems and solutions for industrial power supplies and renewable energy applications, has been selected by the Institute Laue-Langevin (ILL).
Following the Fukushima nuclear accident in 2011, a decision was taken to improve the safety of the ILL site, including new construction work with improved backup protection to the electrical supply.
ILL chose AEG PS to provide the power supply systems required for this change for several reasons: the quality and reliability of AEG PS' products, its expertise in nuclear applications (The products used in the project are designed to meet the stringent requirements of the nuclear industry, including resistance to seismic events and high temperature and have multiple certifications accordingly). AEG PS was also selected thanks to its ability to meet the short delivery timescales of only 10 weeks required for the project.