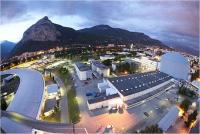 AEG Power Solutions will be showing its latest Uninterruptible Power Supply (UPS) and Industrial chargers at the ADIPEC event (stand 8530E) in Abu Dhabi, on 9th to 12th November 2015.
At the event, AEG PS will display its full industrial range of solutions which meet the most stringent international standards to guarantee power supply to mission-critical applications in the up, mid and downstream segments of the Oil and Gas and Petrochemical industry.
AEG PS will be displaying its Protect 8 UPS system, which is designed to ensure the continuous availability of power and safe operations for all types of critical applications in the harshest environments. Protect 8 is adapted to be rugged, and to cope with extremes in temperature and humidity, as well as dust and sand.