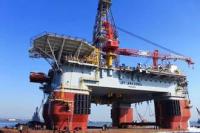 AEG Power Solutions announced it was chosen by Dalian Shipbuilding Industry Offshore Co., Ltd to secure its BT-4000 deep semi-submersible platform power supply with a customized solution based on AEG PS Protect 8 industrial UPS.
Dalian Shipbuilding Offshore is one of the branch businesses of Dalian Shipbuilding Industry (DSIC) based in Dalian, in the province of Liaoning, China. The BT4000-type platform is a new deepwater semi-submersible rig designed by Bassoe Technology, a renowned specialist in engineering advanced floating offshore units. It comprises the functions of drilling, workover and well completion.
This deep semi-submersible platform is used to drill oil offshore in regions with temperate waters like Brazil, the Gulf of Mexico, West Africa, or Southeast Asia. Water operation depth is between 200 and 2,400 meters, and maximum drilling/workover depth is 8,500 meters.