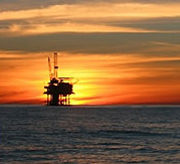 Afren plc reports that the Simrit-2 exploration well in the Kurdistan region of Iraq has been drilled to a depth of 3,800 metres and the total net oil pay has increased to 460 metres. In addition, a cumulative flow rate of 13,584 bopd has been achieved from three out of 12 zones to be tested.
Having previously encountered an estimated 409 metres of net oil pay throughout Cretaceous, Jurassic and Triassic reservoirs down to the initially planned total depth of 3,700 metres, Afren and operator Hunt Oil Middle East subsequently elected to deepen the well and continue drilling to a revised total depth of 3,800 metres in order to test additional prospectivity.
Analysis of data collected indicates the continual presence of light oil shows throughout the deepened section of the well, extending the estimated net pay encountered by the well to 460 metres. No oil water contact has been established in the target reservoirs.