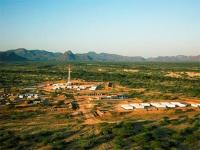 Africa Oil Corp. has completed the previously announced farmout with Maersk Olie og Gas A/S (Maersk) related to Kenyan Blocks 10BB, 13T and 10BA.
At completion, Africa Oil received US$427 million from Maersk.
This amount represents US$344 million of reimbursed past costs incurred by Africa Oil prior to the agreed March 31, 2015 effective date of the farmout and US$83 million representing Maersk's share of costs incurred between the effective date and December 31, 2015, including a carry reimbursement of US$15MM of exploration expenditures.