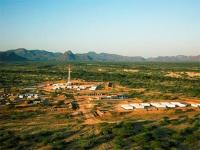 Africa Oil Corp. has entered into an investment agreement with Stampede Natural Resources S.a.r.l. (Stampede), an entity owned by a fund advised by Helios Investment Partners LLP (Helios), to sell, on a non-brokered private placement basis, 52,623,377 of its common shares at a price of CAD $2.31 for gross proceeds of CAD $121,560,000 (US $100 million(1)). Upon completing, Stampede would own approximately 12.37% of the issued and outstanding common shares of the Company.
Helios is an Africa-focused investment firm. The Company has agreed that its participation will entitle Stampede to nominate one non-executive director to the board of Africa Oil. In addition, the Company has granted certain rights to Stampede including the right to participate for its pro-rata share in future financings.
Net proceeds of the private placement will be used towards the Company's ongoing appraisal and development work program in East Africa.