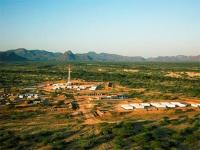 Africa Oil Corp. provide year-end financial results and an update on its operations in Kenya and Ethiopia.
Seven rigs are currently active on the Company's blocks including four rigs on Blocks 13T and 10BB in the Tertiary Lokichar Basin in Western Kenya, one rig on Block 9 in the Cretaceous Anza rift in Northern Kenya, one rig in the South Omo Block in the Tertiary basin in Southern Ethiopia and one rig in Block 8 in the Jurassic/Triassic basin in the Somali region of Ethiopia.
In the Lokichar Basin, two rigs are drilling exploration/appraisal wells and two rigs are conducting testing operations. Africa Oil Kenya BV holds a 50% working interest in these blocks along with partner Tullow Oil plc who holds the remaining interest and is operator.