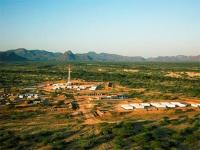 Africa Oil Corp. will resume operations in Block 10BB and Block 13T on November 8, 2013 in Northern Kenya following successful dialogue with national and county government and leaders of the local community.
The suspension of operations announced last week allowed all parties to discuss and understand the complex operating environment in Northern Kenya and commit to taking the necessary action to allow exploration operations to resume.
Further to these discussions, the Company's operating partner, Tullow Oil plc ("Tullow"), has signed a Memorandum of Understanding (MoU) with the Minister for Energy. The MoU clearly lays out a plan for the Government of Kenya, county government, local communities in Northern Kenya and Tullow and Africa Oil to work together inclusively over the long-term and to ensure that operations can continue without disruption in the future.