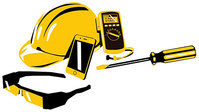 Fieldbit has announced that BP's US Lower 48 onshore oil and natural gas business will expand the use of Fieldbit Hero, a real-time augmented reality and knowledge capture solution for field services, across its US operations after successful field tests of the technology earlier this year.
Fieldbit Hero has been operational at BP Lower 48 for a few months at sites inTexas, Wyoming and New Mexico. Over this time, BP Lower 48 has seen improvements in the safety and efficiency of its field service operations, most notably with a reduction in production losses, well downtime and travel expenses by field personnel. In light of these results, BP has decided to extend the deployment of Fieldbit Hero to the remainder of its Lower 48 operations in the U.S.
"We are delighted to expand the scope of our business collaboration with BP, a recognised leader in the global oil and gas industry," says Evyatar Meiron, CEO of Fieldbit. "We are committed to providing BP with the cutting-edge technology it needs to streamline field service operations and enhance the knowledge and capabilities of field technicians."
Fieldbit Hero uses real-time video to allow experts in the control room to see what the technician sees, ensuring an accurate problem diagnosis. Using augmented reality, Fieldbit Hero then enables the expert to superimpose easy-to-understand visual instructions and real-time data from control systems in the technician's field of view as he works on the equipment fix. Experts use a secure Fieldbit web portal to communicate with remote on-site technicians equipped with a mobile device or ODG R7 smart glasses.
In addition, Fieldbit Hero helps BP Lower 48 preserve the practical field services knowledge of its workforce by organically capturing the knowledge created during the service process. Experts can extract visual records (e.g., AR, video, diagrams) and save them as snippets in a dedicated knowledge repository, which can be used for search, sharing and reuse across the organisation.
"This is the latest example of how BP's U.S. Lower 48 business is leveraging technology to advance our Intelligent Operations operating model to improve the safety and reliability of our operations as well as to improve cost efficiency in a low commodity price environment," says Brian Pugh, Chief Operating Officer at BP Lower 48. "These goals are at the heart of what it means to be a premier onshore oil and gas producer, and we will continue to pursue the best ideas and technology to remain at the forefront of our industry."