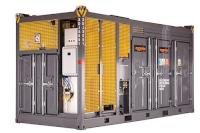 Aggreko has taken delivery of the world's only diesel power generator certified for rental use in hazardous areas.
The 750-kVA unit is fully ATEX approved and has full safety features that allow it to be used in hazardous zones both on and offshore, and is believed to be a world first for generating electricity in areas at risk of explosion.
Its unique ready-to-go design makes it ready for rapid deployment without the need for modification or additional set up, so saves time and cost, as well as saving space and reducing risk for personnel, the site and all allied equipment.
There is also no need for flame arrestor change-out or cleaning solvents, which is good news for the environment too. It's also super quiet.
"Aggreko always wants to bring cutting edge solutions to our customers, and to provide the safest possible environments for all personnel and business operations, so we are very proud to announce this step change in safety," says John Wilson, Aggreko's Area General Manager, Nordic Region.
"It's a major investment and an exciting advancement that will raise the standard for many industries where safety is paramount."
The generator is ideal for use in the oil and gas, petrochemical and refining, mining, and food and beverage industries – all industries where Aggreko has a strong market lead.
The company, which operates the largest fleet of rental, mobile, modular power generation equipment in the world, has begun field trials on the generator, which is already attracting a lot of interest.
The unit was developed by Aggreko and JB Well Solutions in Norway, with additional funding from the Norwegian Government, through its Innovation Norway initiative.
"Reducing risk in hazardous areas is a key target in many industries, so it was the perfect place to focus attention," says Gisle Odemotland, Managing Director of JB Well Solutions.
"Explosions cost too much – lives, production, equipment, the environment, business reputation – the risk is huge, so this generator makes such a difference in a number of industries. Aggreko is the ideal partner in this field. Safety is their watch-word, but their global presence, their cross-industry experience, and their fleet of market-leading equipment, makes them a perfect fit for us," adds Odemotland.
The field tests are currently being conducted in Norway.