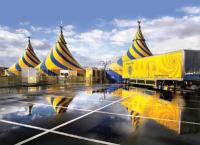 Aggreko has announced a global partnership with Cirque du Soleil that will see Aggreko supply temporary power and temperature control systems to Cirque du Soleil's big top touring productions for the next four years.
With extensive touring of its five big top shows, Cirque du Soleil requires a professional temporary power supply and temperature control system delivered with a consistent quality across all tour locations. Having vast experience in supporting the global events industry, as well as a local presence in more than 100 countries, Aggreko was an obvious choice for the Montreal based global entertainment company.
Aggreko will provide an uninterruptable power supply to each event across the USA, Canada, Latin America, Europe and Asia-Pacific. This will ensure each location has a stable and reliable power supply which is completely independent of the local electricity grid.