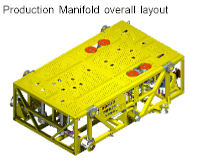 Agility Subsea Fabrication AS has been awarded a contract with FMC Subsea Kongsberg AS for the delivery of several subsea manifold systems. This contract award brings Agility Subsea Fabrication 130 man-years. The manifolds will be produced at the company's production plant in Tønsberg, Norway.
The scope of the delivery consists of four manifolds, four foundation base structures and ten subsea distribution units. The work will commence immediately, and the first delivery is scheduled for mid-March 2015. The final delivery is scheduled for October 2016.
"We have worked closely with FMC over two years to secure this contract. Naturally, we are very proud and happy that we have been awarded such a significant contract. The contract falls under the existing three-year provider agreement, which we signed in 2012. It is yet another confirmation that Agility Subsea Fabrication is a leading subsea provider," says Tove Nilsen Ljungquist, Executive Vice President at Agility Group.