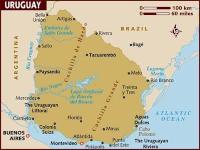 Electromagnetic Geoservices ASA (EMGS) has entered into a partnership agreement with La Administración Nacional de Combustibles, Alcohol y Portland (ANCAP).
ANCAP is the regulating authority for oil and gas exploration in Uruguay. It is ANCAP's intention that the licensing of EM data will count as working units for the exploratory work program commitment in the upcoming license bid round in 2015.
"This agreement confirms the strong commitment from ANCAP related to the oil companies' use of EM data in their exploration workflow in this region. It also expands our opportunities in Uruguay for the years to come," says Roar Bekker, CEO of EMGS.