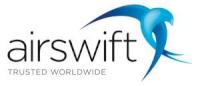 Airswift, the global workforce solutions provider for the energy, process and infrastructure sectors, has hired Craig Slater and Richard Clay to support its global growth. The appointments will strengthen the company's infrastructure and energy sector expansion strategies.
Craig Slater has been appointed as permanent director for EMEA to propel the growth of the company's infrastructure division and build a team of consultants to diversify its permanent recruitment solutions. With 18 years' experience in infrastructure gained with three of the world's largest recruiters, Slater will act as Airswift's subject matter expert while overseeing the strategy delivery for permanent recruitment in the energy and process sectors.
Slater says, "The infrastructure market is booming thanks to rapidly developing global economies, such as Dubai and China, and necessary upgrade projects worldwide. Projects are being sanctioned on a daily basis and to execute them successfully clients need specialist recruiter knowledge. Our strategy is to deliver a diverse suite of services and harness our experience in other capital-intensive sectors to provide clients with access to quality candidates with highly sought after transferable skills."
Richard Clay has been appointed as business development director for Africa and will be responsible for expanding Airswift's operations in both the East and West of the continent. With 14 years' experience in energy and recruitment sales, including extensive experience in Africa, Clay brings a strong background of establishing local operations in new geographies.
Clay comments, "As the oil price begins to stabilise we are starting to see project across Africa be sanctioned, particularly in the gas market. In today's business environment, clients expect a seamless global service which is why it's vital that we are in the right locations, with the right expertise so that we can deliver a high level of service in the locations our clients need us."
Ford Garrard, SVP for Europe and Africa at Airswift adds, "We're committed to delivering a consistently high level of service for our clients and Craig and Richard's appointments will be key to achieving that as we expand our services in new sectors and geographies. The infrastructure and energy sectors across EMEA are expanding and we want to ensure our clients and candidates have access to the best talent and opportunities available."