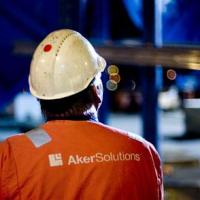 Aker Solutions' revenue rose 14 percent to NOK 8.5 billion in the first quarter of 2015 from a year earlier, boosted by progress on major projects from Angola to Brazil and Norway. Earnings before interest and taxes (EBIT) fell 22 percent to NOK 409 million in the quarter from a year earlier. The EBIT margin in the same period narrowed to 4.8 percent from 7 percent.
Earnings were impacted by costs of overcapacity in the maintenance, modifications and operations (MMO) workforce, a NOK 52 million provision to cover lease costs for vacated office space and a NOK 26 million write-off on some subsea technology. The results were also affected by a slow start to the year for subsea services, particularly in the North Sea, and some unfavorable outcomes of late-stage commercial discussions on a few subsea projects. These developments were partly offset by operational improvements and better capacity utilization in the engineering business. Excluding one-off items, the EBIT margin was 5.8 percent in the quarter.
Aker Solutions secured NOK 9 billion in orders in the quarter, including a NOK 4.5 billion five-year contract from Statoil to provide engineering, procurement and management assistance (EPMA) services at the Johan Sverdrup oilfield in the North Sea. The company also won an order from Statoil for concept studies on future phases of the development. This helped boost the order backlog to NOK 48.3 billion at the end of the quarter from NOK 39.6 billion a year earlier. About two-thirds of the backlog came from projects to be delivered outside Norway.