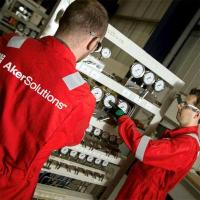 Aker Solutions' revenue rose to NOK 11.2 billion in the first quarter of 2014 from NOK 10.3 billion a year earlier, driven by sales of subsea products and services, single drilling equipment and umbilical systems in the U.S. and Norway. Revenue also increased in the process systems unit, bolstered by strong demand in Norway, the Americas and the Asia Pacific, and in OMA, which had three vessels on charter in the quarter.
EBITDA rose to NOK 1.05 billion in the quarter, helped by stronger project execution, particularly in the subsea and umbilicals areas, as well as increased capacity utilization for the engineering division in London and the U.S. umbilicals plant.
The EBITDA was NOK 767 million in the same quarter of last year, when earnings were affected by costs at the Ekofisk Zulu project and losses in the umbilicals and oilfield services and marine assets (OMA) businesses.
The EBITDA margin increased to 9.3 percent in the quarter from 7.4 percent a year earlier.
"Demand for our subsea products and services remained strong and our engineering unit boosted its activity as employees were mobilized in London and Oslo to start work on the Johan Sverdrup contract awarded by Statoil in December," said Øyvind Eriksen, executive chairman of Aker Solutions. "In contrast, the offshore maintenance and modification market slowed down in Norway and an oversupply of drilling rigs curbed new-building activity globally."