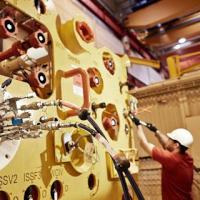 Aker Solutions made good progress on major projects from Africa to Norway and Brazil in the third quarter of 2015 amid a push to improve operations and bring down costs across the business.
The company won NOK 4 billion in orders in the quarter. These included a contract for a subsea production system for the Rotan deepwater natural gas development offshore Malaysia and an order for a high-pressure riser system in Japan to test production of deepwater methane hydrates, secured as a result of work by the subsea production alliance Aker Solutions formed last year with Baker Hughes. Aker Solutions also saw strong interest in its front end engineering capabilities, winning about 20 concept study awards including for strategically important projects in Norway, the Caspian Sea and Australia.
The order backlog was NOK 41 billion at the end of the quarter, more than two-thirds of which was for projects to be delivered outside Norway. The company's financial position was robust at the end of the period, with a liquidity buffer of 6.7 billion kroner.