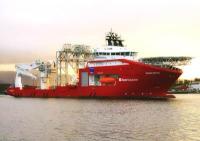 Allspeeds has supplied Webtool Emergency Disconnection Tools to AKOFS Offshore for its subsea equipment orientation system (SOES) used to install subsea trees.
The Webtool cutters are integrated within the SOES providing quick disconnection of the bundles of hydraulic jumpers and electrical flying leads in the event the vessel moves off-station.
Deployed on the Skandi Santos subsea equipment support vessel, the SOES enables installation of subsea trees in approximately half the time it takes a conventional rig. In an emergency disconnect situation, the Webtool integrated cutter will cut a bundle of 10,000psi hydraulic jumpers connecting the SOES to a subsea tree stack. The jumpers are cut in a single operation in less than 10 seconds.