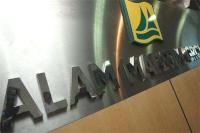 Alam Maritim Resources Bhd has received a letter of award from Petronas Carigali Sdn Bhd to provide splash zone structural repair and maintenance.
The marine transportation/construction service provider told Bursa Malaysia on Tuesday that its unit Alam Maritim (M) Sdn Bhd, which mainly provides ship managing and chartering services, won the contract with an estimated value of RM6mil.
The contract is for a period of two years effective from June 8, 2015, with an extension option of one year (up to June 7, 2018).
("Splash zone" refers to part of a structure that is intermittently exposed to air and immersed in the sea.)
On risks associated with the contract, Alam Maritim said they were mainly operational risks such as accidents and delays due to human, equipment and logistic factors as well as weather condition.