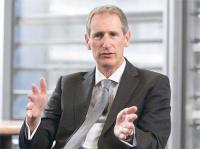 Lloyd's Register's Richard Sadler has taken the decision to step down as CEO at the end of 2015, after eight years in the role. The Lloyd's Register Group Ltd Board of Directors has announced the appointment of current CFO, Alastair Marsh, as his successor.
Since Richard Sadler's appointment as CEO in 2007, he and the executive team have implemented a group strategy that has seen Lloyd's Register (LR) diversify its service portfolio and grow to a £1bn turnover business. This period saw the creation of the Lloyd's Register Foundation in 2012, maximising the group's contribution to society, and technology leadership through LR's Global Technology Centres in Southampton and Singapore.
After eight years in the role, Richard indicated to the Board that he would like to step down and pursue new challenges. The Board started the process to search for and appoint a new CEO to write the next chapter of LR's 255 year history.
Over the past six months, the Board of Directors have conducted an internal and external review of potential successors and have unanimously agreed that Alastair Marsh possesses the capability and leadership to take on the role as LR's next CEO.
Alastair Marsh joined LR as Group Financial Controller in April 2007 and was appointed as Group Finance Director in April 2008. Previously he held a number of senior financial management positions, including CFO and Company Secretary of Superscape Group plc, and prior to that he held similar roles at Easynet Group plc, Laporte plc, and NCR Corporation.