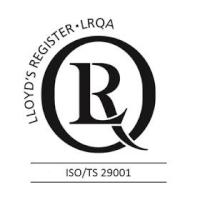 Alderley Systems Ltd, a subsidiary of Alderley plc, has been certified to be in compliance with ISO/TS 29001:2011 by Lloyds Register Quality Assurance (LRQA). The ISO/TS 29001 is the quality management standard for the design, development, production, installation and service of products for organisations working within the petroleum, petrochemical and natural gas industry supply chain.
Mike Shepherd, Managing Director, Alderley Systems Ltd, comments on the certification, "We are pleased to be able to enhance our ISO 9001:2008 quality management system by meeting the additional ISO/TS 29001:2011 requirements. Obtained through an independent review by Lloyds Register Quality Assurance, this validates our commitment and efforts to continually improve our services process to the highest international standards."
Alderley Systems' ISO/TS 29001:2011 is applicable to:
The design and manufacture of oil and gas metering and process equipment systems, including office based systems to support commissioning, spares and service.
The design, manufacture and servicing of electrical, electronic control (including SCADA, DSC, PLC, RTU's), metering and safety systems for industry.
Alderley Systems' full list of accreditations now include: ISO 9001:2008 "Quality Management Systems Standards", ISO 14001:2004 "Environmental Management Systems Standard, ISO 3834 "Quality Requirements for Fusion Welding of Metallic Materials – Part 2: Comprehensive Quality Requirements", OHSAS 18001:2007 "Occupational Health and Safety management systems and the recently achieved ISO/TS 29001:2011.
Alderley Systems is part of the Alderley Group and is one of the firm's UK subsidiary companies. Alderley Systems provides the full range of services for engineering, supply and operation of bespoke metering and control systems to the oil and gas industry.