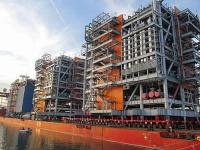 ALE is currently contributing to the trans-shipment operations of the Yamal LNG Project's Modular Intermediate Storage Yard (MISY) at the Port of Zeebrugge in Belgium.
ALE's scope on Yamal LNG project encompasses services for load-in of modules shipped from Asian fabrication yards, jack-down and storage of the modules in a dedicated laydown yard, and load-out of the modules for onward shipment to Sabetta.
ALE also leads a joint venture company with Iemants and ICO specifically created to manage the MISY contract. Iemants is an international steel construction company with a proven track record in the engineering, production, delivery and assembly of mainly heavy, technically complex and architectonic steel constructions and ICO is a world leading terminal operator for roll-on/roll-off cargo and serves an extensive network of shipping companies all over the world.
ALE's and the joint venture's Project Director, Filippo Anello, says, "We have been working on this project since the very early preparation stages in 2015, and it is fantastic to see how much we have achieved at this milestone one year after. I'm extremely proud of the teamwork and professionalism shown during the execution of the project, as well as the good synergy and partnership with our client. We look forward to the successful completion of the logistics phase of the Yamal LNG project, which has demonstrated our ability to manage a project-specific joint venture and a wide-ranging scope of work."
ALE's Global Project Division Director, Toby Allin, says "We were very honoured to lead the joint venture company that was selected to set up and manage the MISY facility for the Yamal LNG Project. This has given us the opportunity to work closely with our client in order to provide an integrated logistics solution that satisfies our client's needs in terms of interface management and responsiveness. We believe that this is an innovative model for future, major projects to emulate."
Yamal LNG is an integrated project encompassing natural gas production, liquefaction and shipping. It requires the construction of a liquefied natural gas (LNG) plant at Sabetta on the Yamal peninsula and will have an output capacity of around 16.5 million tonnes per year, using the South Tambey Field as a resource base. As part of the project execution, Yamgaz, the joint venture led by TechnipFMC with JGC and Chiyoda who are designing and constructing the LNG plant, required an intermediate storage yard for both modules and breakbulk equipment items which are trans-shipped to Sabetta during the winter period with specific polar class vessels.