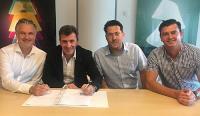 ALE has increased its services and skills in the offshore sector by purchasing Conbit.
Conbit, a successful structural engineering and lifting contractor who specialise in the offshore engineering and maintenance and onshore tower markets, has a head office in Eindhoven, the Netherlands.
Now Conbit are part of the ALE group, it means that ALE can now offer a full solution to cover all scopes of work in the sector.
"This is an increasingly competitive market to enter; by acquiring one of the forerunners in offshore, we are able to strengthen our overall service and position as heavylift leaders within this sector," explains Mark Harries, Global Managing Director for ALE. "We can now bridge our skills together and fill any gaps in our expertise to benefit our clients and the overall industry."
Paul Staal, Managing Director of Conbit, says, "We have continued to develop our reputation in the industry and, by working together with ALE, we can now grow the business in a way that we never imagined with access to their extensive global resources, equipment and technologies. I'm excited for Conbit to be working alongside a company that shares our values and vision of safety and quality, and look forward to the opportunities it brings."