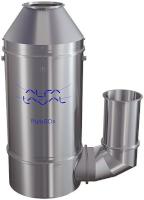 During Nor-Shipping, visitors to Hall E will find Alfa Laval with solutions for a rapidly changing industry, including ballast water treatment and exhaust gas cleaning offerings that lie at the forefront of recent developments.
As Alfa Laval celebrates a century of service to the marine industry, the company will once again exhibit at Nor-Shipping. This year's Alfa Laval stand will feature solutions that are helping ship owners and operators deal with changing legislation, more diverse fuels and challenging operating conditions. Perhaps the most prominent will be Alfa Laval PureSOx, which is fully prepared for the global sulphur cap, and Alfa Laval PureBallast, which is now type approved by the U.S. Coast Guard as well as IMO.
Reflecting the rise of gas as both fuel and cargo, the stand will feature Alfa Laval DuroShell, the Alfa Laval printed circuit heat exchanger and Alfa Laval Smit inert gas systems. But there will also be innovative solutions for traditional fuels, such as the Alfa Laval 290 filter series, the Alfa Laval FlowSync feed optimisation system and the Vertical Driving Device (VDD) for separators, which now offers service by exchange. Service will also be reflected in an Alfa Laval Aalborg emergency kit for boilers, which will accompany a full-size Alfa Laval Aalborg OL boiler in the stand.
For stand visitors, there will be more to experience than products alone. Using a pair of goggles, they will be able to explore the newly expanded Alfa Laval Test & Training Centre in virtual reality. And to celebrate the 100 years since the first marine customer installed an Alfa Laval separator, there will be a social event with champagne each afternoon. As always, Alfa Laval experts will be on hand throughout the event to discuss the latest developments.
Alfa Laval's location at Nor-Shipping will be Hall E, Stand 02-21.