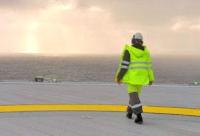 Statoil reports that based on the latest report from the Accident Investigation Board Norway, the Norwegian Civil Aviation Authority has decided to suspend all use of H225.
This helicopter type has already been suspended from regular traffic following the tragic accident at Turøy on 29 April.
The restriction applies from 1 June and entails that all use of this helicopter for search, rescue and medical assignments (SAR) is suspended.
Statoil uses H225 in its SAR emergency service from the Oseberg Field Centre, Statfjord B and at Sola. As the responsible party for preparedness in these areas, Statoil is obliged to ensure preparedness in compliance with applicable regulations.
Statoil is currently mobilising the necessary resources to safeguard preparedness requirements.
Transport services to installations that until now have been covered by H225 SAR preparedness will be adjusted such that satisfactory preparedness is maintained.