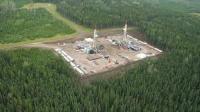 Seven Generations Energy Ltd. (7G) was informed by Alliance Pipeline that an operational event has caused the pipeline company to call for natural gas suppliers to suspend pipeline injections for an indeterminate period of time.
Seven Generations has been directed to suspend injection into the Alliance Pipeline on the morning of Friday, August 7, 2015. This suspension will result in a deferral of essentially all of Seven Generations' production until the situation is resolved. 7G intends to use this temporary event to conduct maintenance of its production and processing facilities.
Alliance Pipeline advised shippers Thursday evening that an amount of hydrogen sulfide (H2S) entered into its mainline pipeline system as a result of complications experienced by an upstream operator. Alliance has declared this to be a force majeure event.