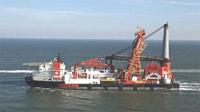 Pieter Schelte is the world's largest dynamically-positioned (DP) platform installation, decommissioning and pipelay vessel, and it has left Daewoo's Okpo yard in November 2014 and arrived in Rotterdam, the Netherlands, on 8 January 2015.
The multi-purpose construction vessel measures 382 meters long and 124 meters wide and can accommodate up to 571 people. Allseas awarded the contract to the South Korean shipyard to build Pieter Schelte in June 2010, and ALMACO Group was contracted in May 2011 to deliver the catering areas consisting of Provision Stores and Refrigeration Machinery.
The Pieter Schelte will be serviced by ALMACO's Provision Stores and Refrigeration Machinery, which have been installed by ALMACO in over 100 ships since 1992. ALMACO offers modular systems with panels in both Polyurethane as well as Pyrofoam. The Pyrofoam offering is a space-saving solution with A-60 fire-rated system not requiring additional bulk-heads, insulation or USPH-cladding.