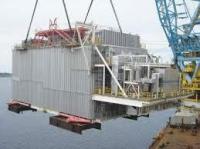 Alphastrut has completed a seven figure contract with BP which has saved the supermajor around 54 tonnes in weight.
Alphastrut comprises engineered aluminium extrusions and fabricated brackets which are bolted together to form support frames, used in everything from load-bearing raised-access floors to ceiling grids and bulkhead supports.
The Alphastrut aluminium system was successfully installed on the BP Clair Ridge accommodation module, providing both raised access flooring and ceiling cable containment support. The platform consists of two bridge-linked platforms, situated 75km west of the Shetland Islands, with its accommodation module weighing 3500 tonnes.
Construction of the living quarter module and incorporation of Alphastrut was carried out at Hyundai Industries' yard in Korea, with the raised access flooring system covering an area of 1250m2 on the six-story accommodation module.