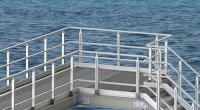 Alphastrut®, supplier of aluminium support systems and handrails to the offshore oil and gas and marine sectors, has further expanded its operations by opening an office in the key territory of Norway.
It is a third overseas office for the Scotland-headquartered company, following its expansion into South Korea and Singapore, as it looks to build on the success that has seen its unique products specified for use on major North Sea platform developments for BP, Nexen and Aker BP ASA.
The Norwegian operation will be run by Tommy Nilsen, who has extensive experience of the aluminium products market within the oil & gas and marine sectors in Europe and the Americas.
David Lawson, Managing Director of Alphastrut, says, "We're pleased that Tommy has joined Alphastrut at what is an exciting time for the company, with a growing number of engineers and buyers becoming aware of the weight and cost savings offered by our products. We had lots of positive feedback about the Alphastrut range at the recent ONS 2016 exhibition in Stavanger, adding to the existing strong interest from major businesses around the world. Tommy's expertise in the oil & gas and marine sectors will help us to capitalise on that interest."
Tommy Nilsen says, "I'm delighted to continue my career within the aluminium equipment industry with an innovative and reputable company. I see great potential for Alphastrut in both the key Norwegian offshore market and in other untapped markets with high growth potential."
Alphastrut's standing in Europe has also been enhanced by its recent approval for Achilles JQS, the supplier register and pre-qualification system for the Norwegian and Danish oil & gas industry.
Pat McNiff, Project Manager for Alphastrut, says, "Approval for Achilles JQS gives us greater visibility to buyers from oil companies and main contractors working on major offshore projects. This will create additional opportunities to tender for new business and demonstrate the advantages of using Alphastrut products to engineers not yet familiar with them."