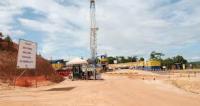 Alvopetro Energy Ltd. has informed Brazil's National Agency of Petroleum, Natural Gas and Biofuels (ANP) of our intention to relinquish Blocks 131, 132, 144, and 157 (collectively, the "Blocks"), in accordance with the associated concession contracts for these Blocks.
Alvopetro acquired the Blocks in Brazil's 9th Bid Round and has since completed 199 km2 of 3D seismic and 355 km of 2D seismic on the Blocks. Prior to the relinquishment, the Blocks represent 20,830 acres of Alvopetro's 148,500 acreage asset base.
Our extensive seismic and geotechnical work indicated limited prospectivity on these Blocks and we have decided to relinquish the Blocks to the ANP and terminate the associated concession contracts. This relieves us of our commitment to drill four exploration wells on these Blocks.