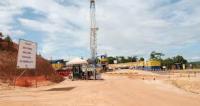 Alvopetro Energy Ltd. is pleased to announce the pressure transient analysis conducted on the first interval of our 197(2) well and the results of the test of the second interval.
In December 2014, our 197(2) well located on Block 197 in the Recôncavo basin in the State of Bahia, Brazil, reached a total depth of 1,669 metres, discovered natural gas, and was cased and cemented. Based on logs, the well encountered 78 metres of potential net natural gas pay, with an average 33% water saturation and an average porosity of 12%, using an 8% porosity cut-off.
We perforated and completed the deepest sandstone interval, at 1,460 - 1,469 metres, and completed a 72 hour wireline perforated cased-hole test. This average 12.6% porosity interval flowed natural gas, on an unstimulated basis, at an average rate of 101,000 m3/d (3.6 MMcfpd or 600 boepd), with a 32/64' choke, using 2-7/8 inch tubing, from the Caruaçu Member of the Maracangalha Formation. The initial pressure transient analysis of this first interval forecasts potential post-stimulation rates at 261,000 m3/d (9.2 MMcfpd or 1,530 boepd) after three months of continuous production and 125,000 m3/d (4.4 MMcfpd or 730 boepd) after one year of continuous production, in both instances at 1,000 psi sandface pressure.