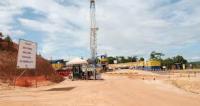 Alvopetro Energy Ltd. is pleased to provide an operational update and our third quarter 2015 financial and operating results.
Operational Update
DeGolyer and MacNaughton ('D&M') completed an independent contingent resource report of our 197(2) conventional natural gas pool located on Blocks 197 and 198 in the Recôncavo Basin onshore Brazil, quantifying Alvopetro's contingent resources with a 'best estimate' (2C) of 5.8 million barrels of oil equivalent (mmboe), 3.4 mmboe 'low estimate' (1C) and 8.1 mmboe 'high estimate' (3C).
The 10% discounted net present values (NPV10) estimated by D&M are $91.3 million (2C), $61.9 million (1C), and $137.1 million (3C). The D&M resource report reflects the significant value of our first conventional natural gas discovery and highlights a small portion of the potential that exists in our current inventory of 22 conventional exploration prospects.