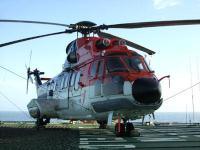 Amarcon, a part of the ABB group and Observator Instruments, will jointly develop a helideck monitoring and forecasting system.
The helideck monitoring and forecasting system will improve the flight and passenger safety during helicopter landings and take offs. The new system, which will fully integrate with Amarcon's vessel advisory system OCTOPUS, monitors weather conditions and advises a vessel's crew whether to proceed with an intended helicopter operation (go/no-go) or wait. The system's analysis and recommendation is based in weather data from the past 20 minutes.
The advisory system allows the vessel crew to have insight in a safe time window for the heli-operation based on the OCTOPUS motion forecast. In this window the most optimal heading and maximum allowable motions can be selected to ensure a safe heli operation.